Monday 6.00 – 7.30pm   Age 10-14 For almost 100 years, Girl Guides has provided a unique space for girls in Mosman to learn new skills, make new friends, and become more community-minded. Our programme is all about trying new challenges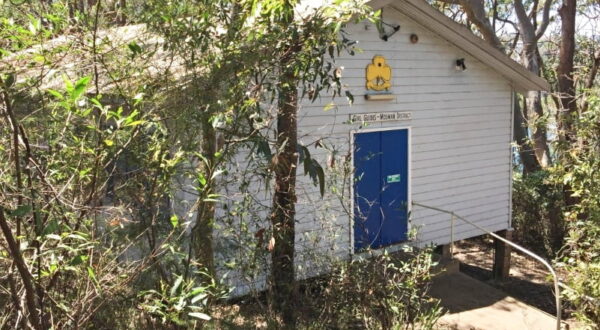 Our hall for hire is located in a natural bush area with a stunning view over Middle Harbour and the Heads just above the Spit. Mosman District Guide Hall is an ideal venue for children's parties, workshops or community groups
Wednesday 6.00 – 7.30pm    Age 6-10  Brownie Guides in Mosman provides a space where girls can be girls for a little bit longer while still enjoying fun activities, developing new and lasting friendships and have adventures whilst engaging in age-appropriate
Mosman District Girl Guides
Girl Guides in Mosman offers girls aged 6 – 14 something unique: access to a great variety of youth activities throughout the year. We help girls develop their skills in a safe environment while having fun and finding friends!
Simply, we empower girls and young women to grow into confident, self respecting and responsible community members.
Guiding is fun, adventurous, challenging, inclusive, supportive and global.  It helps the girls develop skills that will stand them in good stead for life as a young adult and also encourages the girls to make a direct and positive impact on the Community in which they live through teaching positive values and leadership skills. 
One of the oldest Girl Guide groups in Australia, the Mosman Guide Company was formed in August 1921 and moved to its current hall location in Parriwi Park in 1951.  Guiding is led by volunteer adults and we thank everyone over the years who have kept Guiding in Mosman thriving.  We also thank all the Community members who have given time, equipment and funding to return the hall to its former glory and enable a dynamic programme to be run for the girls.  Click here for recent contributions.
Both our groups have regular meetings during term time, for more information on each section click
If you are interested in assisting us as a leader or adult helper please click here
We would also love to share our beautiful hall location with other Community members.  If you are looking for a peaceful and relaxing location to run a regular daytime group such as yoga, painting, meetings, children's events or environmental activities or are looking to hire a space for a children's or maybe even adult party then please consider our hall.  More information can be found here
"This website is not an official site of Girl Guides Australia. Girl Guides Australia takes no responsibility for the content of this website."